Pandemic Impacts Construction Material Cost & Availability
Posted on May 7th, 2020

With over 5,000 tradesmen out of work in Pennsylvania alone, construction has been a hard-hit business sector. The transition back to work, which started May 1 for many in the field, will be full of changes and challenge. The problems of yesterday still exist and with a litany of new safety policies and other pandemic-related concerns, balancing a business in construction is likely to be more daunting than what you're used to experiencing.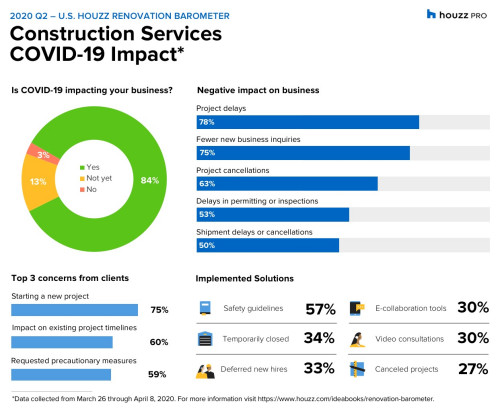 The Affect On Lumber 
Availability of the materials that you need is another concern as closures, albeit temporary, occurred across the globe. For some categories of product, the supply chain was completely halted as both manufacturing facilities and distributors were initially forced to shutter their doors and layoff staff. Many still struggle to operate at full capacity. And while demand for the months of March and April has been lower than that of previous years, there has been a steady drain on existing inventories.
After initial projections of a construction slowdown, the price of lumber plummeted on global markets.  As more crews return to jobsites, the mid-April lows have fully recovered to pre-pandemic figures and are increasing at noteworthy levels. While most sawmills have resumed business under new safety guidelines, curtailments are still limiting output. Further compounding those scarcity issues were temporary border shutdowns between the US and Canada while flooding impaired both truck and train transport of material out of Canada. The result: increased cost of lumber and other engineered wood materials.
Items to Watch
Southern Yellow Pine – Up double-digits last week and we expect that to replicate itself this week
Western and Eastern Spruce – Up single-digits
OSB and other plywood – Trending slightly up
Molding – Up 5 – 10% (price fluctuation in this product category attributed to countervailing duties, not primarily pandemic-related)
Overseas Imports
Roughly 30% of building materials used in the US are sourced from China. Both finished goods and componentry hailing from this region of the globe saw a complete stop in production as a result of government shutdowns and travel restrictions; cabinetry, plumbing fixtures, tile, lighting, etc.
With further delays to long lead times (including roughly 6 weeks on the water) and stateside distributor warehouse supplies depleting, backorders and price increases on these goods is likely. And while some importers of record have been granted deferment from the US government on tariffs, prices inclusive of those tariffs are unlikely to rollback in the meantime.
Selecting an alternate product may be the most viable option in some instances, particularly when sourcing finishes like tile or stone, that can be purchased from every corner of globe (even domestically produced). And while this method might help with availability and therefor your ability to complete a project, it's still likely to have negative impacts on your bottom line.
Short Term Purchase Planning
As construction resumes, a big initial push for materials is expected. With new home sales down YOY and with project cancellations (or long delays) anticipated, this pent-up demand is likely not sustainable in the long term. However, wholesalers across most building material categories are still working through inventory, meaning the impact of pandemic-related price increases in the short term have not yet been fully realized.
Demand will soon exceed supply, continuing to drive the spike in prices.
The unpredictability of the COVID-19 situation makes it very difficult to clearly forecast pricing trends, but all indicators point to two months of increases being likely.
Buy in the next two weeks for your next two months of projects, if possible.
As both domestic and foreign vendors adjust to new safety/operating procedures, achieve full capacity, and replenish warehouse supply, price stability is expected to be regained. But this could take months.
These next few months will also reveal a lot about the future to those in the construction industry:
How many construction project cancellations will occur?
Will the economy and consumer confidence facilitate new projects?
When can construction crews, particularly those in Pennsylvania, be able to relax on health/safety guidelines that impact efficiency on jobsites?
It's a waiting game at this point. In the meantime; Stay healthy.
Helpful Links
Guidelines For Resuming Construction
Construction Industry Guidelines FAQ